Cattery Buen - we breed Norwegian Forest Cats
We are Berit Thaysen and Andreas Munk-Madsen. We breed Norwegian Forest Cats.We live in Hadsund (between Aalborg and Aarhus) in a forest - a great playground for our cats.
We are members of Jydsk Racekatteklub (JYRAK), affiliated to Fédération Internationale Féline (FIFe) through Felis Danica, and Norsk Skovkattering Danmark. The mortarboard signifies that Andreas is a "BA of NFO". The badge signifies that Berit has earned the Felis Danica breeder diploma.
Next litter planned for the spring 2019

Meanwhile you may enjoy the picture of our latest litter by Gullveig and Ulfgeir. 4 boys born 7. May 2017. Pedigree https://pawpeds.com/db/?a=p&ids=3:1300697;2:1215084&g=4&p=nfo&date=iso&o=ajgrep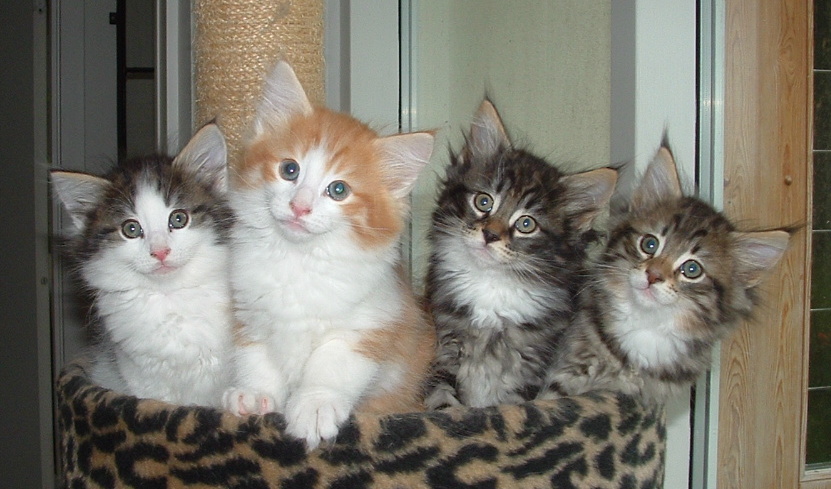 From left Arnljot, Asbjørn, Aslak, and Atle. Almost 8 weeks.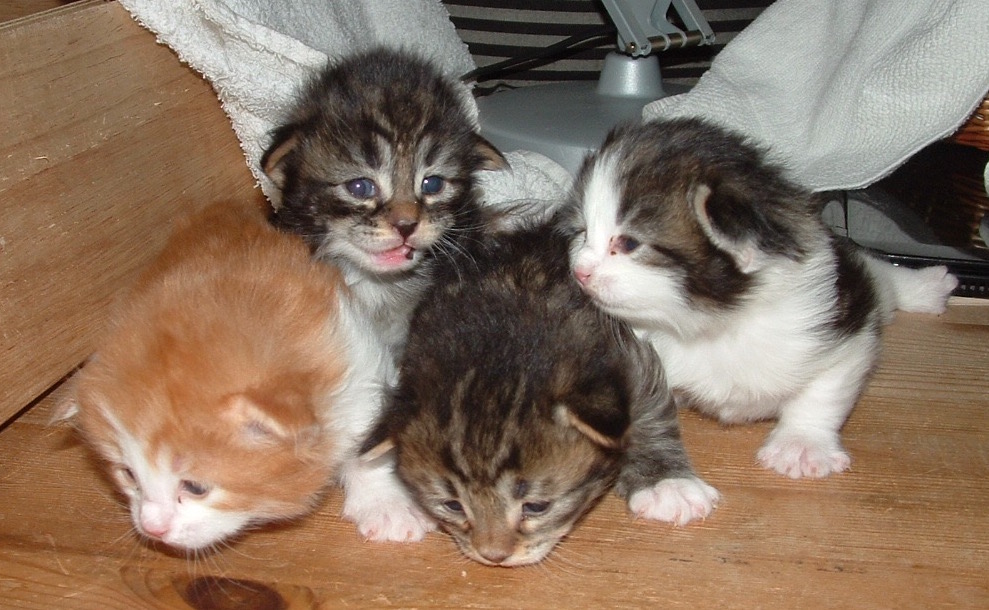 From left Asbjørn, Aslak, Atle, and Arnljot. 2 weeks
Gullveig and Ulfgeir.. September 2016.
All kittens are sold with FIFe pedigree, vaccination, health certificate, treated against fleas and worms, and with pet food samples.
Buyers from abroad are required to personally transport the kitten to its new home..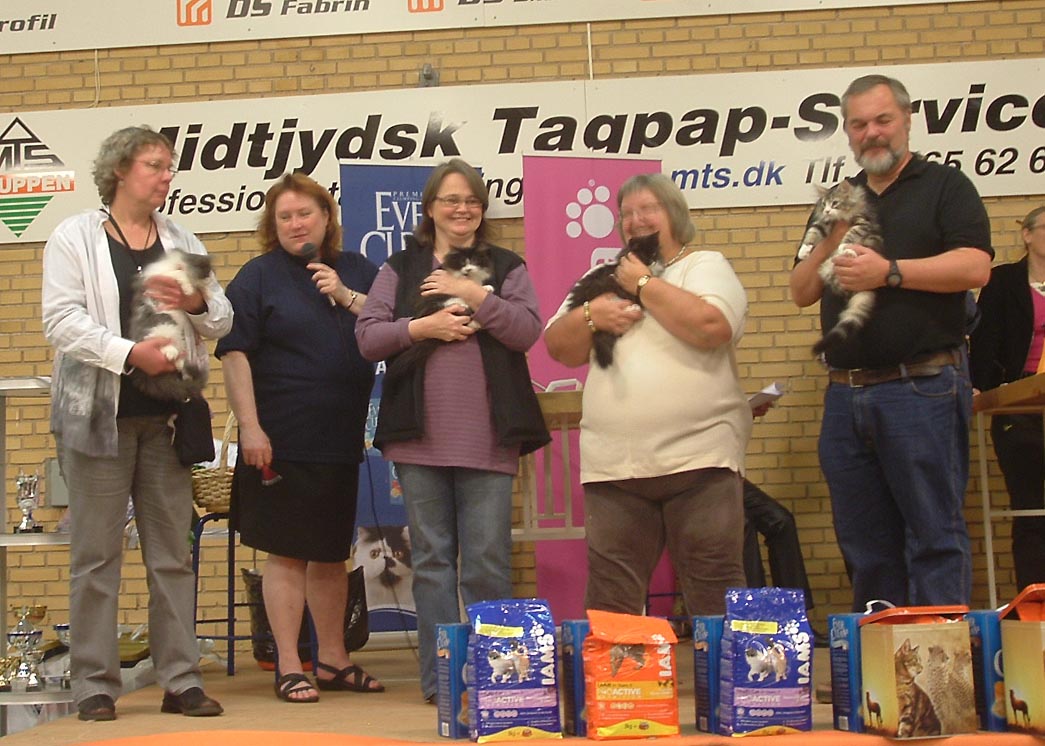 Best litter! The S-litter was best semilonghair litter at Jydsk Racekatte Klub's international show in Hobro 14. Nov. 2009.
Sigurd winning the breed class

At the international cat show in Horsens 22. October 2005 Sigurd became Grand International Champion. He also won the breed class (for cats with
at least 5 kittens from at least two litters present at the show). Here Sigurd is in the middle. Left is Caruso von Langeln, behind from left
Buens Laura, Buens Kraka, Buens Lorelei, Connie von Langeln, and Vindelhuset's Hodja fra Pjort.
Pictures from the international cat show in Hjallerup, 19. November 2005 (sorry, only Danish text).
---
Our cats:
Our litters:
Under the acacia tree:
Links:
---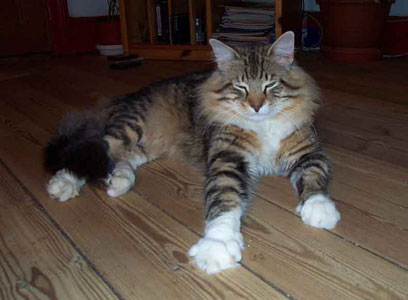 Sigurd (father of the E-, F-, G-, H-, I-, J-, K- and L-litters) 1 year old in March 2001. A norwegian forest cat has big paws and heavy bones. At Norsk Skovkattering's PR-show in Sorø, 17. November 2002 Sigurd won the prize for the biggest paws.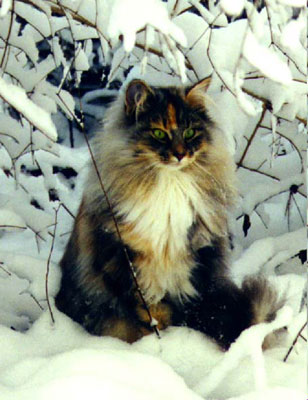 Buens Brynhilde just before christmas1999.
In the finest wintercoat she is looking for prey beneath a snowclad bush.
She won the price for best NFO-look at a PR-show. Her green eyes give the local mice nightmares.
She was no. 3 on Norsk Skovkatterings top 10 list for 2001
As a kitten she was no. 5 on Norsk Skovkatterings top 10 list for 1999
---
Our address:
Berit Thaysen og Andreas Munk-Madsen
Lyngbakken 20
DK9560 Hadsund
Denmark
Telephone:
+45 38 74 79 99
+45 21 64 81 49
E-mail:
Copyright:
All material on this and the following pages is copyrighted by Andreas Munk-Madsen. You may take a print for your personal use. But you may not distribute the material by electronic or mechanic means. You may link to this page. But you are not allowed to link to isolated picture files.